"PC: Overclocking, Optimization and Tuning" 2-nd Edition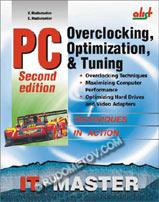 Rudometov V., Rudometov E.
"PC: Overclocking, Optimization and Tuning" 2-nd Edition
A-List, 2002. - 496 pages.
ISBN 1-931769-05-2
Editorial Reviews
Book Description
This one-stop reference guide contains various recommendations and advice for tuning, optimizing and overclocking almost all computer elements to achieve maximum computer performance. It offers the most detailed information on overclocking processors, memory, hard drives, and video adapters, allowing for a significant increase in performance for all types of computers, including both current and earlier models. Many different problems that one may face in the overclocking procedure are analyzed and solved in this book. This book also pays special attention to to the problem of cooling a computer when it has been overclocked. There are many computer test results for different overclocked systems that give a clear idea of what one can and should gain from overclocking. The book also covers several other topics concerning computer performance optimization, including: selecting various BIOS Setup settings, and optimizing hard drives and video adapters. There is also a very clear description of the compression technique given, which provides an increase in hard drives' information capacity. The information on hardware monitoring will help to control the computer's operation, which is useful for both normal and overclocked modes. In additon, the book also provides descriptions of several programs that are very helpful in tuning and testing computer elements, thus allowing one to achieve maximum performance. Where necessary, the writers have given descriptions of major computer elements like processors, hard drives, memory, motherboards, and chipsets. Furthermore, this book covers various aspects of creating and administrating computer networks in different operating systems. Moreover, it contains a comprehensive list of Web addresses that can help advanced users in searching for the most up-to-date information concerning PC overclocking.
Customer Reviews
Excellent information., March 18, 2001
Reviewer: Michael Woznicki from Holland, MA.
The Best book about overclocking, optimimization and tuning., February 7, 2001
Reviewer: John Jackson from US
Brief contents of the book