"PC: Overclocking, Optimization and Tuning"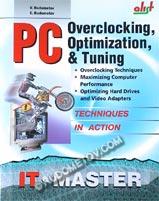 Rudometov V., Rudometov E.
"PC: Overclocking, Optimization and Tuning"
A-List, 2001. - 410 pages.
ISBN 1-58450-079-4
Editorial Reviews
Book Description
This one-stop reference guide contains various recommendations and advice for tuning, optimizing, and overclocking almost all computer elements to achieve your maximum computer performance. Using results from actual performance testing, readers will gain a clear understanding of what will be gained from overclocking their computer. Also includes detailed information on overclocking processors, memory, hard drives, and video adapters, which, when implemented, will provide a significant increase in computer performance for both the newest models and earlier releases.
Other Topics Covered Include: -- How to test, monitor, and diagnose your computer's performance and possible optimization solutions -- Description of several third-party testing programs for diagnostic and fine-tuning assistance -- Selecting various BIOS Setup settings -- Optimizing hard drives and video adapters -- Creating and editing computer networks --Troubleshooting the most common overclocking problems while using your computer in intensive modes --Comprehensive list of Web sites for users searching for the most up-to-date information concerning PC overclocking
Customer Reviews
Excellent information., March 18, 2001
Reviewer: Michael Woznicki from Holland, MA.
The Best book about overclocking, optimimization and tuning., February 7, 2001
Reviewer: John Jackson from US
Complete contents of the book